Seidenberg Optical
Our goal is to offer you a pleasurable, convenient experience in purchasing the highest quality glasses at competitive prices.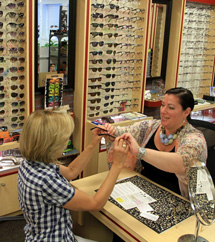 You can call our opticians Pete and Sally directly at 201-447-9143.
Monday: 9am – 5pm
Tuesday: 1pm – 7:30pm
Wednesday: Closed
Thursday: 9am – 5pm
Friday: 9am – 5pm
Saturday: once a month
Sunday: Closed
 Come visit!
 Not only will you see better, you'll look better!
According to so many patients; "We have the best Opticians!" Patients have been raving about our super-knowledgeable and friendly staff. Pete and Sally Fokas (a husband and wife team) joined us in 2011 to run our optical department.
Our Optical Shop Features:
The latest styles in designer eyewear
Premium lenses including Varilux® progressives
Lighter, thinner, more flattering lenses
High quality, antireflective coatings to reduce glare at night and eye strain on the computer
Most glasses are fabricated in our privately owned lab which allows for better quality and faster turnover time
We welcome Valley Hospital employees and honor the BAI Plan*. Click here to find out more!