Introduction to Eyeglasses: Fashion vs. Frugality
How to Save Money and Still Look Good
When shopping for glasses, it's important to compare not only price but overall value, including quality of frames and lenses, care taken fitting glasses, professional know-how, service and guarantee. Consumer surveys show that, generally, glasses purchased in a doctor's office are likely to be more trouble-free, higher in quality and more accurate than those purchased in independent stores or chains (Consumer Reports, "The Specs on Specs," July 1997).
There are a number of ways for you to keep costs down on your eyeglass purchase.
If you want certain lens coatings, find out if they're included. Some lenses, such as polycarbonate lenses always have UV- and scratch protection. Make sure you don't pay for these twice.
You might not need a particular lens enhancement even though it sounds wonderful. For instance, if you generally wear sunglasses outside instead of eyeglasses, you probably don't need UV-protection on your new eyeglasses. Do make sure, however, that your sunglasses are equipped with 100% UV-protection.
Purchasing a better quality frame now might save you from having to replace it, or the entire pair of glasses, before you want to.
Keep your reading glasses on a chain or cord around your neck if you repeatedly take them on and off. This will keep them handy and you'll avoid having to replace lost pairs.
Research. If you know what your needs are before you purchase your glasses, you'll be less inclined to pay for more than what you require.
What's Wrong with Drug Store Glasses?
Absolutely nothing. While the glasses that are sold for around $10 in your local drug store may not be pretty, they are functional as reading glasses. Cheap glasses, whether low quality or poorly made, will not harm your eyes. If your Eye M.D. prescribes reading glasses, and you want to save some money, stop by the local drug store and see if the glasses there are comfortable. Because that's the most important thing: comfort. It won't matter if you spend $20 or $200 on your new glasses if they don't feel right.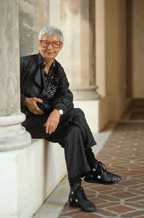 Glasses Help Create Your Image.
Buy frames as you would your clothing. If you buy designer outfits and jewelry, you will probably want higher quality glasses to match your image. If you are a sports enthusiast, you might want a separate pair of glasses with sturdier hinges, frames, and a strap to keep them on tight. If you like to spend as little as possible on clothing and accessories, you will probably not want to spend a lot on enhancements and designer names. But remember that inexpensive frames may have weak hinges and are more likely to loosen, come apart, or break with heavy use.
Whatever your style, be sure to discuss any questions you have with your Eye M.D. or the office's optical staff. They will be able to help you find the pair, or pairs, of glasses that fit you and your lifestyle.
© Copyright 1996-2000 American Academy of Ophthalmology